True Supporter
Staff member
Administrator
Premium Member
Super Coach Member
2019 Tipping Competitor
Joined

Nov 17, 2004
Messages

16,939
Danny the Worm has the latest - seems Foz is aiming to get back on the park this year
Foran's fiscal insult to injury
Kieran Foran
is a $1.2 million-a-season player next year, but he is ready for the massive pay cut that's coming his way.
He undergoes his 10th surgery since 2016 on Tuesday and knows he is fighting for his career. The days of the big dollars are over.
''I have already accepted that and acknowledged that,'' he said. ''I heard that I was called the worst buy. I have to accept it and cop it on the chin. If you are basing it on what I am being paid and I delivered, I haven't produced bang for the buck ...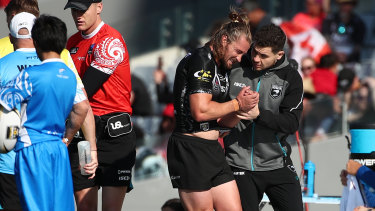 Downward trend: Injuries have slashed the market value of Kieran Foran.Credit:Getty
''By no means do you sign a contract with the view of not playing. Anyone that knows me, they know I don't play football for the contracts that I am on ... I feel gutted for the Bulldogs and they have been very supportive of me. They are not trying to get me to retire.
''They have been very supportive and I want to get back with about 10 rounds to go. People are going to see just how much I want to play as I undergo this rehab process. I'll put everything into this.''