From the SMH:
'He trains really, really hard': Why Garrick is more than just a pretty face
May 12, 2023 — 3.59pm
Manly winger Reuben Garrick has had to work harder than most to be taken seriously as a footballer - because of his striking good looks.
Garrick, who will celebrate 100 NRL games on Sunday, could easily have become a male model rather than a professional athlete.
However, the 25-year-old is adamant he wants to be known for his work ethic rather than his physical appearance.
Garrick regularly features in fan polls on the best-looking players in the NRL, something Sea Eagles teammate Aaron Woods admits he is not familiar with.

​
"I try to stay away from him," Woods said. "I'm a three out of ten on a good day, but drop to a one out of ten when I stand next to him.
"Because he's so handsome, you always wanted to whack him when playing against him. Now I play with him, he's very strong, loves to ****-stir, but also trains really, really hard.
"He reminds me a bit of Beau Ryan. He also trained like he played. They're both from the south coast. There must be something in the water down there."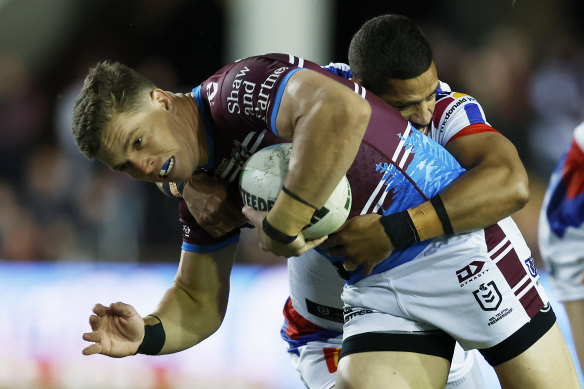 Effort player: Manly fullback Reuben Garrick.CREDIT: GETTY IMAGES
As he prepares for his milestone at 4 Pines Park against Cronulla on Sunday, Garrick said he wanted to be judged solely on his performances. "All I worry about is doing my best for my team," he told this masthead.
"Some weeks that might be rucking the ball up, some weeks that's scoring tries.
"I've always based my game off effort, and the points come off the back of that. [After 100 games] I know you have to prepare your best every week, and find a different motivation every week to try and get the best out of yourself."
Garrick, who was a Dragons junior - and was on Newcastle's radar last season before signing an extension at Manly that keeps him on the northern beaches until the end of 2027 - is in a long-term relationship with Riley Wishart, the daughter of Illawarra Steelers legend Rod Wishart.
And he regularly speaks with the NSW Origin great about how to better himself.
"I'd be silly not to get some pointers off him, he was a great winger and good goal-kicker, too," Garrick said. "He's always telling me to go hard and stay in every play. Sometimes on the wing it can get early, but he reminds me to get into the game and go looking for the ball."
Wishart, who will be at Brookvale on Sunday, was fulsome in his praise of Garrick.
"He's has a lot of ability, he'd be in the top five players when it comes to fitness at any club, and on the wing he's just so reliable," Wishart said.
"Playing on the wing, if you think you're getting involved as much as you can, just double it. But his wing play is impeccable. To be a winger these days, you need to be an extra forward, you need pace, catching ability ... and he ticks all those boxes.
"He's a perfectionist. I play a bit of golf with him and he's always working on his game there. And he's a good clubman.
"To play 100 games is a big milestone, I'm sure he'll be around for a lot longer, and if he keeps wanting to improve and stays humble, he'll be great."