Poker nights, golf days and ping-pong: Mateship driving Manly revival​
If Manly's players looked a little weary on Friday, it was for a good reason. And it wasn't the normal rugby league after-dark madness.
Several Manly players did not go to bed until after midnight because they were playing poker at Tom Trbojevic's house. They played for money. As if Turbo needs any more.
A few weeks earlier, more than a dozen Sea Eagles spent their day off at Campbelltown, where front-rower Josh Aloiai lives, playing the video game FIFA.
There have also been card games at Taniela Paseka's place; a trivia night hosted by Trbojevic and his brother Jake; competitive games of table tennis; and a round of golf, when a few players were contenders for being charged with grade-three reckless swinging.
There were two storylines coming out of the northern beaches during the off-season. The first was Tom Trbojevic's dodgy hamstrings and his
trip to see reconditioning guru Bill Knowles
. The second was how new coach Anthony Seibold had made bringing the players together a priority after the pride jersey fiasco had, apparently, divided the group.
There was a
three-day army camp in Mudgee
before Christmas and a
pig on a spit
, which was wheeled out one night at Brookvale as a show of appreciation to the club's large Polynesian contingent.
Happy campers ... Haumole Olakau'atu and Daly Cherry-Evans embrace.Credit: Getty
It was all designed to bring the players together.
Even Manly owner Scott Penn was
struck by the bond
between the players during their trial win over the Roosters in February.
"We needed someone who could help galvanise [the group] and get the younger players to believe in themselves and bring them through," he said. "Anthony is doing a terrific job."
Last year was last year.
The inclusivity jersey fiasco
thrust the spotlight onto a problem that was already festering. Seven players refused to wear the club's rainbow-themed jersey, which was, ironically, designed to celebrate diversity and inclusivity.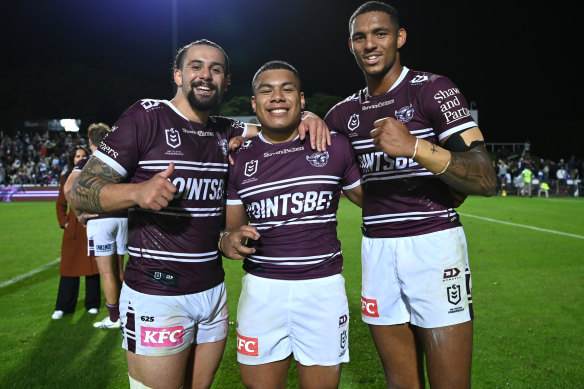 Josh Aloiai, Raymond Tuaimalo Vaega and Jason Saab after last week's win against the Storm.Credit: NRL Photos
The players did not hate each other, but they barely associated off the field. And with former coach Des Hasler being a strict disciplinarian, the mood in the change room was never going to lighten.
This is not a story about Hasler. Dessie has enjoyed success, and will enjoy success whenever he and his wonderful hair pop up in the NRL again.
This is a yarn about how Manly became mates, and how the off-field friendships are driving their resurgence on the field.
The Sea Eagles go into Sunday's clash with the battling Wests Tigers a point outside the top four. Depending on results, they could head into Magic Round chasing top spot.
Manly players drag a five-tonne truck, loaded with another two tonnes of equipment, through the bush near Mudgee.Credit: Cameron Doyle
It's a scenario that seemed a world away when they lost their final seven matches and missed the finals last season.
Aloiai was among the players who finished up late at Trbojevic's pad. He told
The Sun-Herald
it was unlikely he would have done such a thing this time last year.
"A happy group makes good footballers," Aloiai says. "We've spent a lot of time together, and we are tighter than we've ever been.
"It's funny how much you turn up for your mates on the field when you have those closer bonds off the field. You understand your teammates a lot more when you understand where they come from, how they were brought up and what makes them tick and why.
'The golf day was fun. I played with Josh. He had the most unco-ordinated swing I've seen.'
Tom Trbojevic
"Even for me, it's been surprising how much of a difference being well connected makes.
"It starts at the top. I give big praise to Seibs [Seibold] and the rest of the coaching staff.
"The leaders are trying to drive it now. Whether I host something at my house – we had a big FIFA tournament running at my place with most of the boys coming out to my place – or Turbo hosts things; we're trying to organise different things for the whole group.
"It didn't happen last year. It wasn't one of our priorities, put it that way."
Aaron Woods (right) has been impressed by the spirit of togetherness at Manly since his arrival from the Dragons.Credit: NRL Photos
Aloiai was painted as the ringleader of the seven Polynesian players who refused to wear the inclusivity jersey because of their Christian beliefs.
The jersey was the beginning of the end for Manly's season, and ultimately cost Hasler his job.
You have to wonder if the same thing would have happened had the Manly players known each other as well as they do now.
There was never a wedge between the Pacific Islanders and the rest of the Sea Eagles. Aloiai says it was a lazy narrative that should never have taken off the way it did.
Trbojevic said Seibold had been big on "connection", and he would have pushed that mantra, regardless of what happened towards the end of last season.
"That's the type of coach Seibs is," Trbojevic says. "Some boys are closer than others, which happens at every workplace. It's not compulsory for everyone to turn up to these events, but it's been great.
"I remember going to Mudgee and we were speaking about trying to put something on at least once a month. The golf day was fun. I played with Josh. He had the most unco-ordinated swing I've seen."
Aaron Woods
arrived a couple of weeks ago from St George Illawarra and was struck by the happy camp at Brookvale.
There were a few players he already knew, including Aloiai, who was starting out at the Tigers when he was captain.
"We used to call Josh 'Hums' because he was so humble – but he's not humble now," Woods quips.
"I walked in here the first day and he sent me a text asking me to get him a latte with one sugar and a bacon and egg roll with barbecue sauce. He's one of the leaders now and the alpha male.
"But this joint has been unbelievable. Sometimes a change is what you need."
Manly have had just that.
Pretty sure the team 10-15 years ago use to do the same thing and played poker at Beavers house.
The team back then seem mostly happy and would go that extra mile in games to not let their mates down.

Seems to be working with the current squad, last few years the players didn't really seem to be mates, just blokes who worked together but now it seems they have a complete different attitude compared to the last few seasons.

I wasn't sure about sacking Des and replacing him with Seibold but at the moment it looks like it was the right decision.
Last edited: