We're on the other side of Christmas, so you know what that means — the 2022 NRL season is all but upon us.
It might still be a couple of months until Penrith host Manly to officially kick off the new campaign, but we're in the thick of it now.
It won't be long until there are trial matches and late transfers, and plenty of season previews that'll have you thinking that this year, by God, is going to belong to your team.
Hope springs eternal in the summertime, and following on from
our series of off-season previews
here's the biggest question the top four teams from last year need to answer if they're to take out the premiership in 2022.
Manly Sea Eagles​
Question
: How do they take the final step?
Answer
: If history is any guide, we have seen the best of Tom Trbojevic. His 2021 season was remarkable, exemplary and right up there with the greatest individual campaigns any player has ever had in the history of rugby league.
He'll be very good again in 2022, of that there seems to be little doubt, but you can't bank on someone scoring 28 tries in 18 games and generally seeming like a player from another universe. It's just not repeatable, even for Trbojevic, and expecting him to be better again, or even match his performance from 2021, is asking too much. He will still be one of the best players in the competition in 2022 but demanding a second miracle season is setting him up to fail.
So for Manly to rise up and win the title, they need to make up the distance in the margins. That might be in continuing to develop Josh Schuster's combination on the left edge, or it might Lachlan Croker continuing to improve at hooker, but it's worth keeping an eye on rising props Taniela Paseka and Sean Keppie.
For some time now, the Manly middles have gone as far as Jake Trbojevic and Martin Taupau could take them but the new rules have not been kind to Trbojevic and Taupau will be 32 in January with over 200 NRL games at prop under his belt. Manly's downfall in their preliminary final loss to Souths was the middle third of the field, which was exacerbated by losing Keppie early to concussion.
The Narellan junior improved vastly as the season went on, with his toughness and physicality shining through towards the back end of the campaign. Paseka, the largest Sea Eagle of them all, is 24 and has always been blessed with prodigious physical gifts but he is beginning to really put them all together and is nearly at the age when front-rowers traditionally play their best football.
If the hard-nosed duo can continue their improvement, it'll make Manly that little bit stronger in the middle and when you add that to their dazzling spine and merciless approach to scoring points it's a frighting prospect for any side.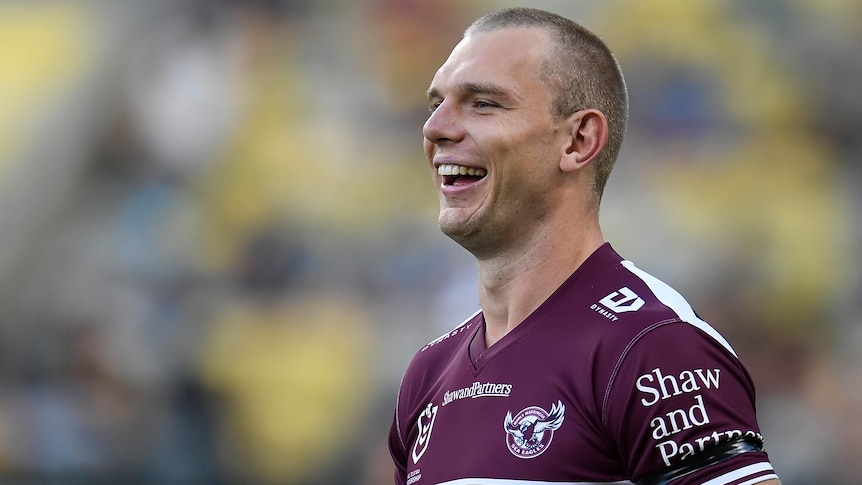 It's not fair for Manly to ask Tom Trbojevic for another miracle, but how else can the Sea Eagles compete with the best teams in the NRL?
www.abc.net.au