"I come back to you now at the turn of the tide"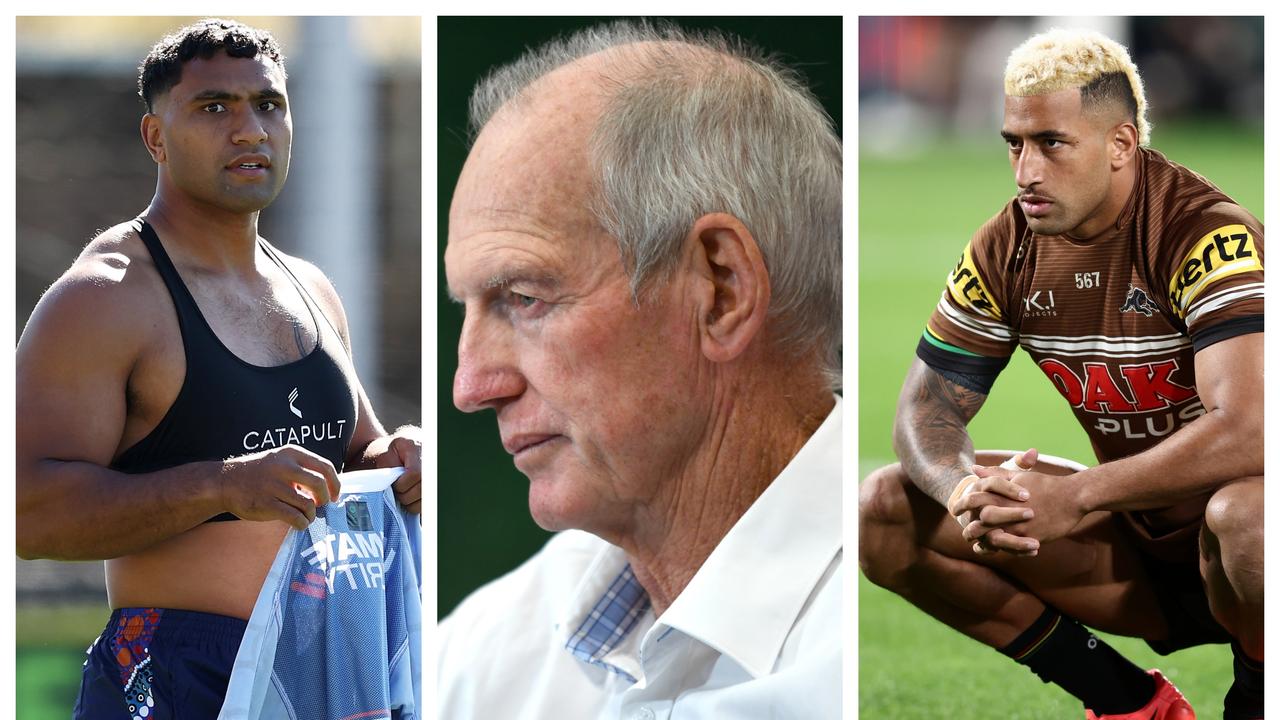 Bennett's reality check; Grand Final giants' glaring voids: Every pack ranked 1-17
www.foxsports.com.au
11. SEA EAGLES

Round 1 predicted starting pack:
8. Sean Keppie 9. Lachlan Croker 10. Josh Aloiai 11. Haumole Olakau'atu 12. Kelma Tuilagi 13. Jake Trbojevic
Full pack:
Josh Aloiai, Ethan Bullemor, Ben Condon, Viliame Fifita, Sean Keppie, Karl Lawton, Lachlan Croker, Haumola Olakau'atu, Taniela Paseka, Josh Schuster, Toafofoa Sipley, Ben Trbojevic, Jake Trbojevic, Kelma Tuilagi, Alec Tu'itavake, Morgan Boyle, Zac Fulton, Nathaniel Roache
Ins:
Kelma Tuilagi (Wests Tigers), Ben Condon (Cowboys), Nathaniel Roache (Eels)
Outs:
Martin Taupau (unsigned), Andrew Davey (unsigned), Dylan Walker (Warriors)
"Analysis:
The Sea Eagles forward pack will be mentored by a new coach this season after Anthony Seibold was hired following Des Hasler's sacking.
Manly's pack fell victim to a late-season slide following the pride jersey saga and key players were out of form and struggling including Josh Aloiai and Haumole Olakau'atu.
But in 2023 the Sea Eagles pack will be desperate to start fresh and two new faces are set to make their debut – Kelma Tuilagi and Ben Condon.
Tuilagi is a straight replacement for Andrew Davey on the left edge, while Condon will likely take Marty Taupau's bench spot, who remains unsigned.
Lachlan Croker will only improve after a career-best season, winning the club's Player of the Year award in 2022.
Meanwhile, club stalwart Jake Trbojevic will also remain at lock alongside Olakau'atu and Aloiai who will be desperate to fire.
In positive signs, Manly had the least missed tackles of any team in 2023 and will be hoping to continue that trend."
While I'm glad that we will have had the least missed tackles
next
year (good crystal ball typo, Fox Sports), it does raise a couple of points.
If our tackle efficiency was so good this past season (thanks, Des), our other metrics must have been well off the pace to finish where we did; line breaks, post-contact metres, time in possession, etc.
Many of us have been bemoaning our pack's lack of attacking threat, particularly in the latter half of this season, and not without cause. However, it's also shown that our backs have not been able to dig us out of that hole either, unless the forwards can lay a superior platform.
Bottom line - as we're suspecting, we need players to improve across the board (and stay healthy) to get a better result than we did in season 2022.
PS - interesting that Fox Sports has Keppie as starter, when so many here have nominated Paseka. Whoever it is, they will have to step up more than they have so far.