Not a vacation:' How Manly Sea Eagles plan to deal with temptations of Las Vegas​
The Sea Eagles have revealed how they plan to deal with the bright lights and temptations of Las Vegas, declaring: "This is a business trip, it's not a vacation."
Dean Ritchie
Follow
@BulldogRitchie
2 min read
October 23, 2023 - 3:53PM
News Corp Australia Sports Newsroom
https://www.dailytelegraph.com.au/s.../33c1277da8984a4d61a7e8b4d4dd1035#share-tools
Manly chairman Scott Penn will caution Sea Eagles players about the
bright lights and temptations of Las Vegas
, declaring: "This is a business trip, it's not a vacation."
Penn added: "Everything in moderation."
NRL players from Manly, South Sydney, Sydney Roosters and Brisbane will
converge on America early next year
amid club reminders of their behavioural responsibilities.
Manly is the only club to spend their entire week in Las Vegas, the remaining three clubs will essentially be based in Los Angeles.
Penn – who splits his time living between Sydney and Brooklyn, New York – isn't harbouring concerns about player conduct but still wanted to drill home the need for his team to avoid any potential off-field issues.
Las Vegas is universally known as Sin City.
Penn wants his players to enjoy and digest the experience of travelling to such a famous American city but still warns: "The reality is that they are there on business – this is not a vacation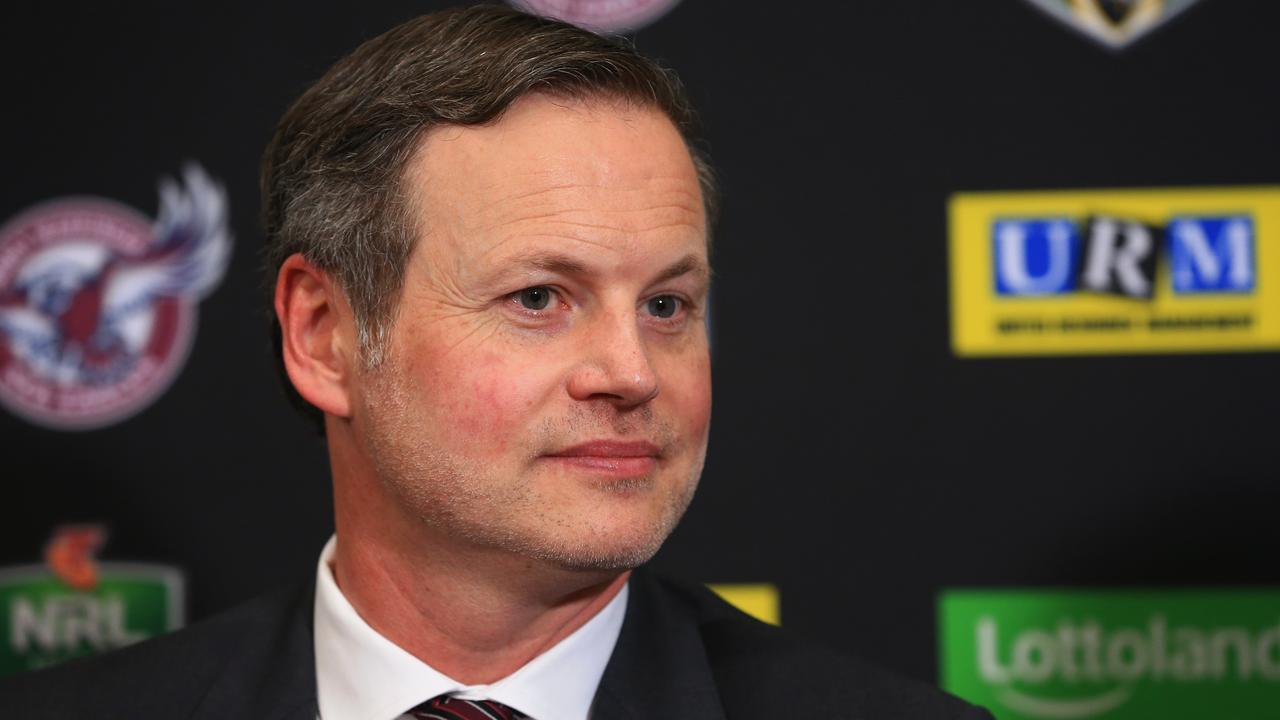 Manly chairman Scott Penn says the Sea Eagles won't be in Vegas for a holiday. Picture: Mark Evans/Getty Images
"They are there to play a competition game therefore they need to treat it that way – it's a business trip, not a pleasure trip.
"The players are all adults and we have really clear standards as a club and everyone knows they are stewards and ambassadors of the club.
"They are role models of the game. We're not needing to tuck them in at night but they know what is expected of them.
"We want them to enjoy the experience so we're not saying: 'Don't enjoy yourself'. They will be in a place renowned for having a good time and we want the players to enjoy the experience – just not take it too far.
"It's common sense. We are saying respect your position, respect your role with the club and everything in moderation.
"We constantly talk about the expectations at the club and I'm sure 'Seibs' (head coach Anthony Seibold) will be really clear on the standards he is setting as a coach.
"And that includes the fact they are role models in the community and people model their behaviour off their behaviour. They have standards they need to mirror."
Four NRL teams will converge on Vegas next year.
Manly will nut out team-specific activities in Vegas with their head of security, Mick Malligan.
The NRL's historic US double-header will be played on March 2 next year at Allegiant Stadium with Manly playing Souths and Brisbane confronting the Sydney Roosters.
A Manly contingent, including Seibold and CEO Tony Mestrov, will travel to Las Vegas next month to nail down the team's training facilities.
"They will come over in a couple of weeks so we will use that as an opportunity to pump it up a bit more," Penn said.
​
"The games have the potential to be massive. It will be a real festival of Australia. The important thing is that the teams are playing for points – it's not just an exhibition game.
"That's really important so people absolutely know it's a competition game, not an exhibition match.
"It's not dissimilar to what the NFL are doing now by sending a fair number of teams to London on a regular basis and that's a great idea."
Last edited by a moderator: