Reserve Grader
Premium Member
Didn't sit well with me': Luke Brooks opens up on fallen Tigers deal, Manly move​
After over 10 disappointing years with the club, departing Wests Tigers halfback Luke Brooks has opened up on why he's finally leaving Concord for the northern beaches at Manly.
Brent Read
News Corp Australia Sports Newsroom
What can Luke Brooks bring to the Sea Eagles?
Luke Brooks feels good. It has been a few days since the Wests Tigers half confirmed he would join Manly next season, signalling the impending end of his time at his boyhood club, and he has grown more comfortable with his decision by the hour.
Brooks is relishing the chance to play alongside Daly Cherry-Evans and learn off Anthony Seibold. He cannot wait to link with Tom Trbojevic and some of Manly's young and emerging stars. There is genuine enthusiasm in his voice as he talks about the future.
At the same time, Brooks makes it clear it was a difficult decision given the sense of loyalty and love he feels for the Tigers. A decade ago, when some of the Tigers other stars headed for the exit door, Brooks remained loyal.
His reward was a decade of disappointment. All these years later he is yet to play finals football and as much as he enjoys working with Tigers coaches Tim Sheens and Benji Marshall, there is a nagging sense that he was pushed into a decision by other members of the club who weren't necessarily on the same page as the coaches.
As excited as Brooks is about the future, he wants to make it clear his focus remains firmly on the present. He hasn't given up hope of playing finals football this season. After that, a new chapter starts.
"Obviously I feel good," he said.
"I am excited about it to be honest. It is a good move for me where I am at in my career. The more time that went on after I made the decision not to stay at the Tigers, the longer it went on, it made me feel like it was the right decision."
THE DECISION
Brooks entered the final year of his contract on November 1 and the Tigers publicly insisted they would wait until the season began before offering an extension.
Brooks was prepared to wait and was told an offer would arrive in the bye week. It eventually did lob the week after but it wasn't what had initially been communicated.
Brooks was taken aback and days later, a revised deal was tabled. That was early-June and Brooks thought he would have some time to digest the offer.
A few days later, he was told that the board wanted to put a deadline on him. Brooks began to get the feeling that not everyone at the club was singing from the same hymn sheet.
It was a deal breaker.
He was determined not to do the wrong thing by the club — or Sheens and Marshall — so he made the decision to reject the offer, which was revealed in this masthead on June 11.
"It was straight after the Titans game I sat down with Benji (on the Friday) and he said the people on the board have come back to him and said they need an answer by Sunday," Brooks said.
"I guess that probably didn't sit too well with me, them putting that deadline on me after only about a week and a half.
"I had a think about it and I guess out of respect to Benji I said I didn't want it to drag on. I called him Sunday and said I wasn't going take up the offer so he could move forward and they could plan things for next year.
"The whole time Benji and Sheensy were upfront with me and telling me that they really wanted me to say.
"They have stuck up for me the whole time. I definitely got that feeling that they were definitely trying to get me to stay.
"Just speaking to Benji, he was disappointed I made the decision to leave but he congratulated me and backed me on my decision as well."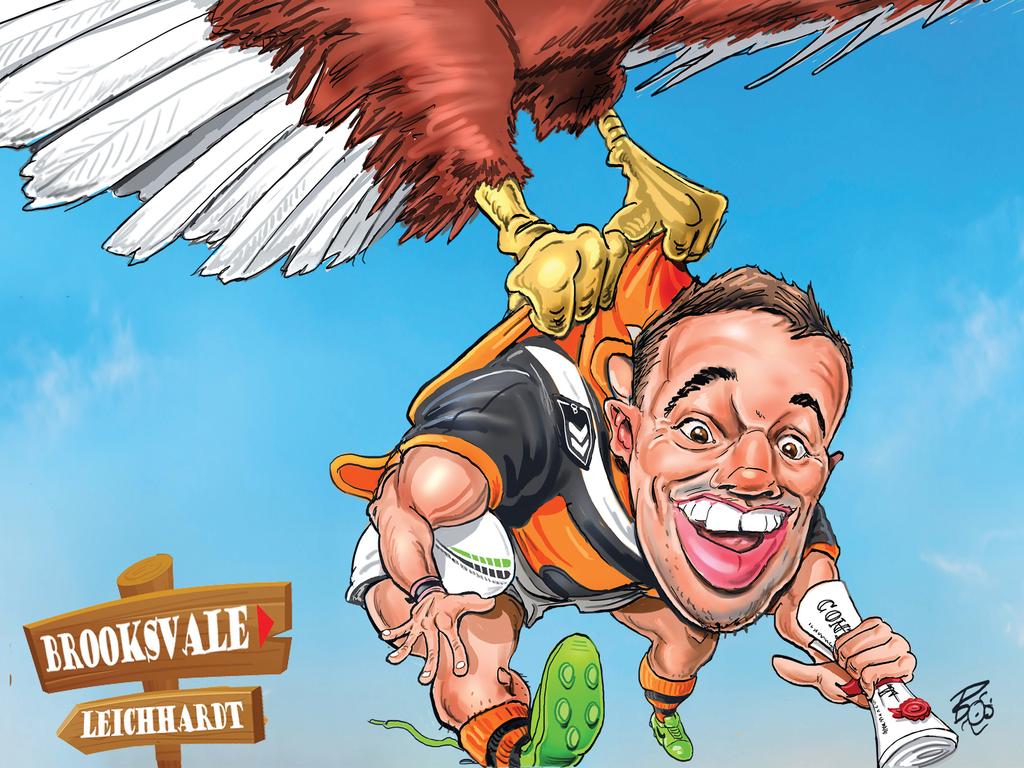 Art: Scott 'Boo' Bailey.
Asked whether he felt some people in the club were happy for him to go, Brooks said: "I feel like there may have been. With the way it panned out, it seems that way, just with putting the deadline on me to make a decision.
"In the past there have been players they have been in talks with that have dragged on. Then for someone like me who has been loyal to the club, they put a deadline on me which didn't really sit well with me.
"It was a tough decision to make, especially after everything that has happened. If you take it back three or four weeks before that, I thought that I would be staying.
"It was hard but in the end I think it was the right decision for me and I think I have made the right move not just for me, but for my family."
THE CLUB
Brooks is as Tigers as they come. He played his junior footy for Holy Cross Rhinos and Leichhardt Wanderers before he signed with the Wests Tigers.
He rose through their junior ranks and made one of the most celebrated debuts in recent history in 2013 at the SCG.
He has gone on to play more than 200 games for the Tigers and won the Dally M halfback of the year in 2018. He has also copped his share of flak over the years but he has come to accept that is par for the course in the NRL.
"Obviously there is going to be times where fans can be disappointed with where we have been over the last few years," he said.
"Overall they have all been good to me. I have had a lot of bad media and people bagging me. But on the flip side, every time I walk to the shops there is always someone, a Tigers fan, saying they back me and giving me support.
"There are a lot of fans that I have come to know well over the last 10 or so years who have always backed and supported me.
"Even when I made the decision to leave, fans have said they are still going to support me. I would obviously like to thank them.
"They have been good to me over the years. All I ever wanted to do was play for the Tigers. I thought we had a pretty good side but lost a lot of good quality players that it would have been nice to keep. Who knows what we could have created at the Tigers."
He says he is indebted to Sheens and Marshall for helping him rediscover his love of the game.
"I have been enjoying my footy this year and coming off the back of my 200th game, I thought we were starting to play the way we wanted to," he said.
"To be honest playing under Sheens and Benji have helped me get my love for the game back and get me playing my best footy.
"So all sorts of things were going through my head. I was enjoying play with the boys as well.
"That's why I thought I would have stayed. Obviously a few things happened and it changed."
MANLY MOVE

Before he made the decision to join Manly
, Brooks picked the brain of some of his former teammates. Among them was Aaron Woods, the ex-Tigers front rower who recently joined the Sea Eagles.
"I spoke a bit to Woodsy," he said.
"I was sort of sussing him out before anyone knew about the club. He was saying he was loving it over there. That made me feel better about my decision as well."
What also made him feel good about his decision was knowing that he will partner Cherry-Evans in the halves.
It would appear the perfect halves combination. Cherry-Evans can take the reins and steer the ship. Brooks can get back to what he does best - run the football.
"I am looking forward to playing with Cherry-Evans — he is in some of the best form of his life," Brooks said.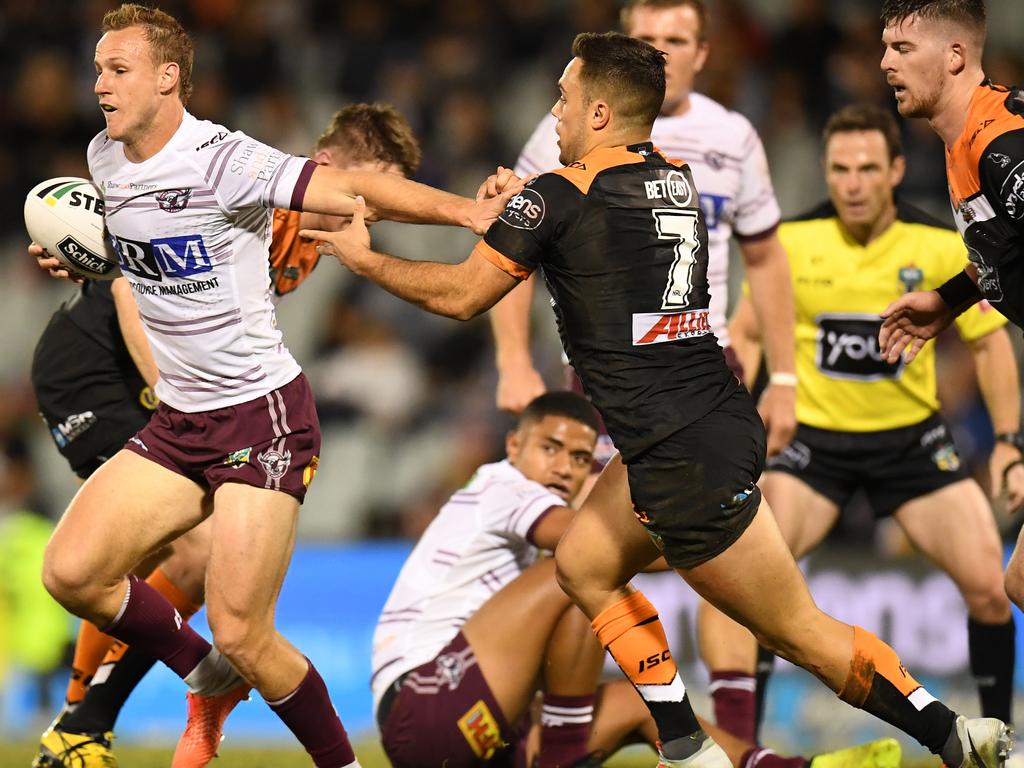 Playing alongside Daly Cherry-Evans has huge appeal for Brooks.
"I am looking forward to playing alongside him. I obviously want to learn off him and how he conducts himself. Playing alongside him — we will suit each other.
"The attraction at Manly is that I will be able to play the way I want to play — running the ball. Obviously playing alongside Cherry-Evans, he will let me play my best footy.
"Turbo out the back... they have lots of strike all over the park — a lot of young, good players. Also to play under (Anthony) Seibold, I have heard a lot of good things about him as well."
HIS LEGACY
Brooks is currently sidelined with a hamstring injury and his only wish is to get back as quickly as he can to help the Tigers through what is left of their season.
He insists the finals are not out of reach and he plans to return within a month to help the club make a late charge at the top eight.
"Firstly, I want to get back, make sure my hammy is right, get back in and finish the season on a high," he said.
"We still have a chance of making the eight. Hopefully we can string a few wins together and once I am back, we can make a charge to the finals.
"Whatever happens, I just want to finish the year on a high, playing good footy and enjoy the rest of the year, the last part of being a Tiger.
"I want to enjoy it.
"To be fair, even though results haven't gone our way all this season, the coaches and players have still made it a good environment to be in."
He concedes it will be strange next season playing against the Tigers, the only club he has known.
"I don't think it has really hit me," he said.
"Especially now that I am not playing because I am out injured. It will probably hit me when it is my last game.
"It will be a weird feeling but I guess that is the way it is, there are a lot of players that end up changing teams and I am just going to be another one of them.
"It will be weird. It will be strange. The last few years have been pretty tough with results and all that. It has been a rollercoaster ..… but I have met a lot of good people along the way.
"I don't know where (the club is going) but I wish them all the best