Sea Eagles head coach, Des Hasler has heaped praise on fullback Tom Trbojevic ahead of their finals match against the @storm.​
We vaguely remember
Manly's poor start to the season
; that club legends reckoned the wooden spoon was a given; that coach
Des Hasler
was under pressure to keep his job.
We easily forget the ugly contract dispute between coach and club. Hasler wanted a long-term deal and more money; the club wanted as many get-out clauses as it could and, after getting thumped in the first four rounds, you could understand why.
Manly were also still chastened by
Trent Barrett
's departure, which cost them plenty of money while he was pottering around on gardening leave.
Manly coach Des Hasler has triggered a bonus by finishing in the top four. Now he can get a haircut.
The Hasler deal was described to me at the time as a "complex deal for a complex coach at a complex club". Already signed until the end of 2022, Hasler's extension contained a clause that meant a top-eight finish in 2021 triggered a one-year extension for 2023.
Complex? It sounded like the Sea Eagles having a bet each-way.
The impasse threatened to make a rough start to the season even rougher, but Manly and Hasler got the deal done.
We might have forgotten all that, but you can bet Hasler has not.
Reaching the top eight secured a contract extension for 2023. Reaching the top four triggers a monetary bonus, something that will surely put a smile on the face of the famously frugal coach, who was once late to a dinner as he circled the block waiting for free parking to kick in.
The Sea Eagles' resurgence sets up a delicious qualifying final against a familiar nemesis in Melbourne at Sunshine Coast Stadium on Friday night.
It's simplistic to pin Manly's run solely on the rare form of fullback
Tom Trbojevic,
even if he entirely deserves the acclaim he's receiving and the Dally M he should collect in grand final week.
Yet Hasler deserves credit, too, if only for the fact he's got five-eighth
Kieran Foran
going again.
The late
Bob Fulton
told a troubled Foran to leave the Warriors and join Hasler at the Bulldogs because no coach understood him better.
Hasler was sacked before Foran arrived at Belmore in 2018 but they've finally reunited and Foran, with his body and mind finally right, looks like a footballer playing purely for the love of the game again. At 31. Some story.
Apart from being a wise head for Manly's abundantly talented yet abundantly raw younger players, Foran plays like an old-school half: direct, digging into the line, setting up outside players without fear of being whacked by the defence.
Hasler will deflect any praise that comes his way. He loathes talking about himself, let alone his contract. Manly also won't talk about his complex deal, which is fair enough.
But another conversation will be needed soon if the Sea Eagles go deep into the finals, as many expect. Hasler is contracted until the end of 2023. There's nothing beyond that but a vague reference to a "consultancy" role.
Kieran Foran has experienced a renaissance since returning to the club where he made his name.CREDIT:GETTY
It remains unclear how much longer he wants to coach. He's 61 in February and says he doesn't want to be
Wayne Bennett
, 71, and coach forever, which Craig Bellamy, who's 61, said to me in an interview — 12 years ago.
Coaches coach. What else in life is there to do? Golf? Lawn bowls? Sleep?
Manly need to keep Hasler around for as long as possible, that much is clear. Few understand the place like he does.
Consider the scene at the Twin Waters Resort on the Sunshine Coast at the moment.
After serving as headquarters for the Storm last year, the resort currently hosts the Panthers, Roosters, Knights and Sea Eagles.
Our spies report the players are sticking to type even if they are hundreds of kilometres from home.
The Roosters, gritting their teeth through a tough season, are often locked in conversation over coffee.
The Panthers, full of youthful vim, are skulking around with music blaring from their boom box.
The Knights have been low-key, almost shy and nervous after limping into the finals with a string of unconvincing performances.
Then there's the Sea Eagles.
They look like they're on holidays, lazing around the pool, some of them sucking on vapes, without a care in the world and certainly not daunted about taking on the defending premiers in the first week of the finals.
You can take the boys out of Manly, but you can't take Manly out of the boys. Nor can you take it out of Des Hasler.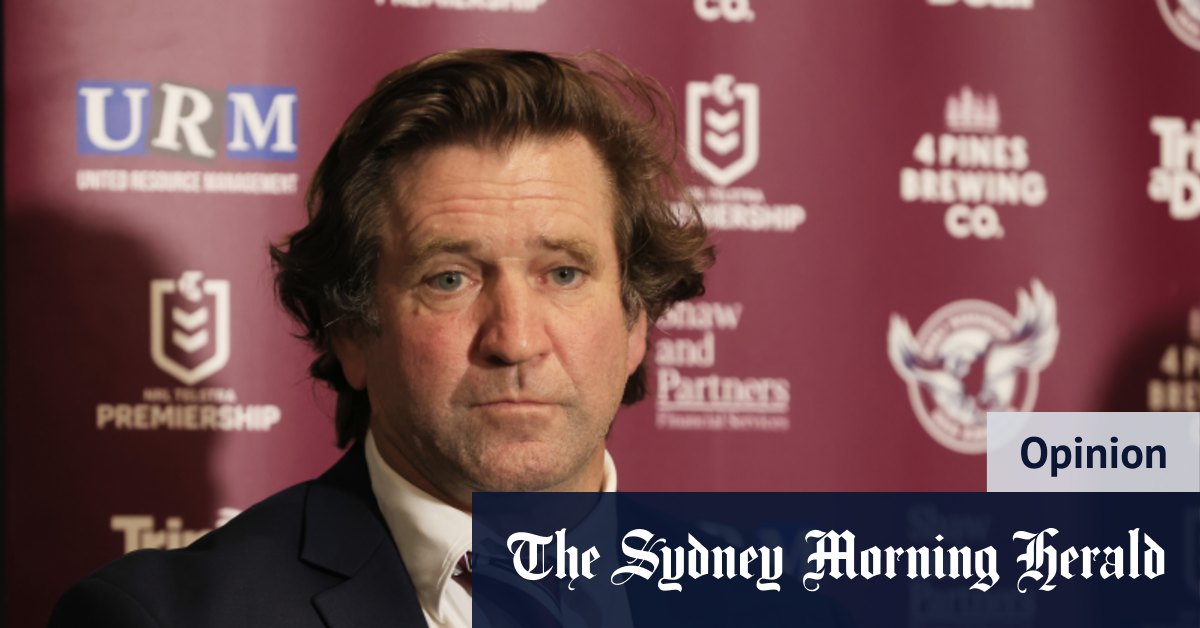 A month into the season, he was fighting for his job. Now he's getting paid extra by Manly for what he's achieved with the Sea Eagles this year.
www.smh.com.au