Joined

Nov 8, 2010
Messages

8,070
For his services to the game Ken Arthurson has been honoured by being inducted into the Sports Australia Hall of Fame, Australia Sports Medal
Legends of Sport
Jan 27 2020
Ken Arthurson has given a lifetime service to Rugby League as a player, coach and administrator.
He was halfback in the 1946 Manly President Cup winning team which helped Manly gain admission into the NSWRL competition in 1947.
Ken Arthurson made his first grade debut in 1950 and played 41 first grade games for Manly from 1950-1952. He was halfback in Manly's first grand final in 1951. In 1953 he accepted an offer to captain coach Parkes in the Country Rugby League. In the 3rd game in 1953 he suffered a fractured skull when he scored a try a player fell on top of him injuring his skull. He was only given 48 hours to live. He was to spend 3 months in Hospital in Parkes and his playing career came to an end.
After his playing career came to an end he went into coaching. He was Manly's 3rd Grade coach in 1954, Reserve Grade in 1955-56 and first grade coach from 1957-1961. In his time as first grade Manly played in finals football every year including 2 grand finals in 1957 and 1959 losing to St George on both occasions.
In 1962 Ken Arthurson became Manly treasurer and became Manly secretary in 1963. He was to become Manly secretary for 20 years. During his time as secretary Ken Arthurson built Manly into one of the most successful clubs and was regarded as the best administrator of his time. During his 20 year reign as secretary Manly played in 8 grand finals in 1968,1970,1972,1973,1976,1978,1982 and 1983. The club won 4 premierships in 1972, 1973, 1976 and 1978. Manly were also minor premiers in 1971, 1972, 1973, 1976 and 1983. Manly were club champions in 1972, 1973 and 1983 and 2 KB Cups in 1982 and 1983. Manly played in 15 finals series during his time as secretary.
He was known for his negotiating skills which helped land Bob Fulton, Graham Eadie, Malcolm Reilly, Ken Irvine, John O'Neill, Ray Branigan, Phil Lowe, Steve Norton, Gary Stephens, Paul Vautin, Les Boyd, Ray Brown, John Dorahy, Kerry Boustead, Noel Cleal and Des Hasler to the club.
During his time as secretary Manly faced criticism and were accused of buying players and decimating clubs. Ken Arthurson refuted those criticisms saying in his role as secretary his main aim was to build Manly into a premiership winning club. He pointed out that players like Fulton, Eadie and Vautin came to the club as teenagers from Wollongong, Central Coast and Qld respectively.
He also pointed out that players like Terry Randall, Max Krilich, Alan Thompson, John Gibbs, Phil Blake, Ian Martin were
Manly juniors. He also said he would not sign a player unless that player was 100% committed to playing for Manly. He also said that he encouraged Ken Irvine to stay at North Sydney but Irvine was adamant he wanted to come to Manly. He almost signed Terry Lamb to come to Manly in 1984 however he dropped off after Lamb was having second thoughts about coming to Manly.
In 1984 Ken Arthurson became Executive Chairman of the Australian Rugby League (ARL). He was to be Chairman for 13 years stepping down in February 1997 during the height of the ARL-Super League war.
For his services to the game Ken Arthurson has been honoured by being inducted into the Sports Australia Hall of Fame, Australia Sports Medal, Ken Arthurson rookie of the year at Manly, Ken Arthurson stand, Spirit of Rugby League award and was honoured on Australia Day in 1988 with the Order of Australia Medal (AM) for his services to the game.
These days Ken Arthurson is now living on the Gold Coast and is now 90 years of age and in good health.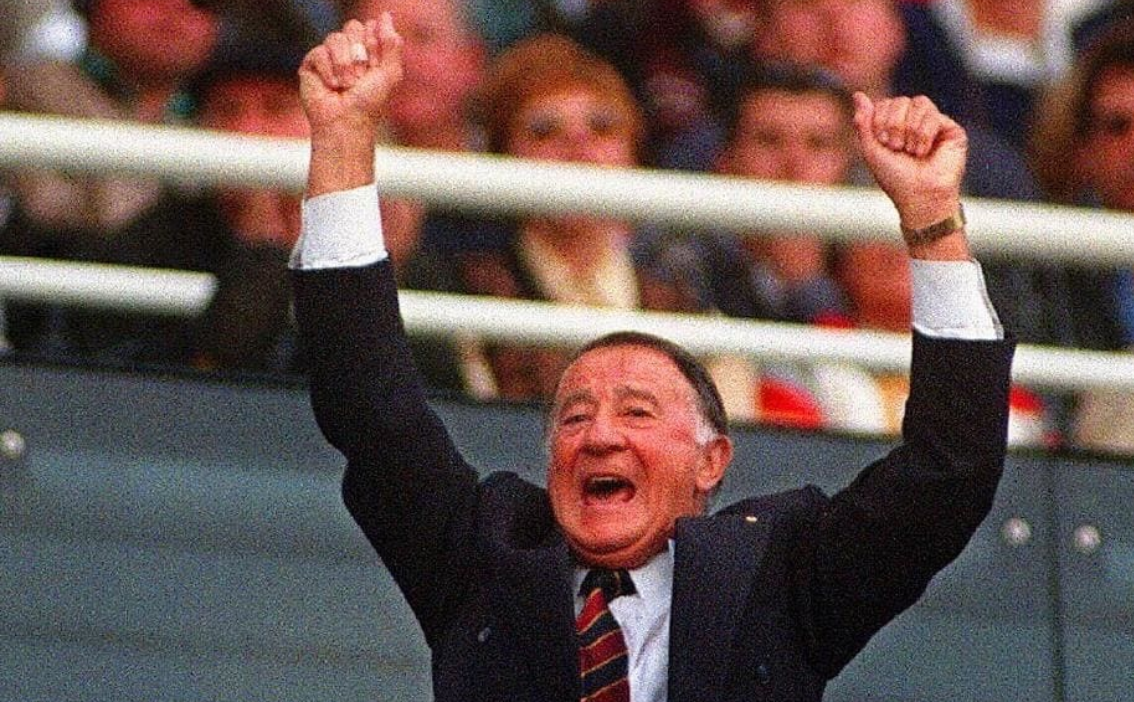 For his services to the game Ken Arthurson has been honoured by being inducted into the Sports Australia Hall of Fame, Australia Sports Medal, Ken Arthurson rookie of the year at Manly, Ken Arthurson stand
www.todaystale.com