October 21, 2023 — 3.50pm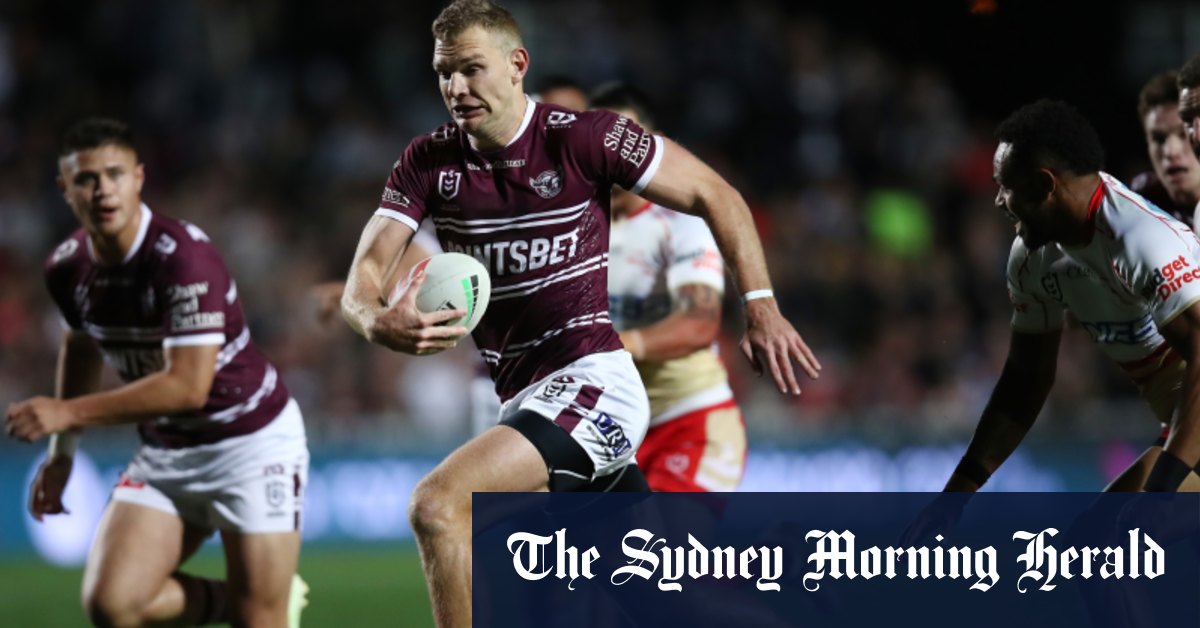 Tom Trbojevic says he is better equipped to cope with the intense interest in his form and fitness ahead of Manly's 2024 campaign.
www.smh.com.au
Manly superstar Tom Trbojevic says he has learnt how to handle the intense interest in his form and fitness, while declaring his one simple goal for 2024: "To show everyone what I can do."
Trbojevic also confirmed there had been no talk about him skipping the Sea Eagles' season-opener in Las Vegas to minimise the chances of any fresh injuries due to the extra travel.
After a dislocated shoulder restricted his 2022 campaign to just seven NRL games, Trbojevic was keen to make up for lost time last season, only to rupture a pectoral muscle in Origin II in Brisbane.
There were some suggestions Trbojevic should shift from fullback to centre to preserve his body, or that the injuries would cut short his career altogether. Neither of those options were ever entertained, he said.
For the record, he was also never a serious chance of returning this season, even if Manly had made it all the way to the grand final.
Trbojevic has also worked closely with a psychologist, which has kept him mentally sharp during another lengthy spell on the sidelines.
Tom Trbojevic has big plans for 2024 after injury cut short his 2023 season.CREDIT:GETTY
"I'm really optimistic about the season – I'm excited to get back out there, play some footy and show everyone what I can do," said Trbojevic, as he signed nearly 200 copies of his children's book,
The Turbo Pup
, at Warringah Mall on Saturday.
"I haven't dived into it too much with things like how many games I want to play. It was a tough year for me this year. There was a lot of external talk about me, and every game I felt like I was under the microscope.
Advertisement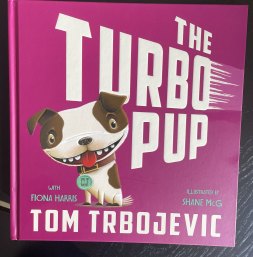 Tom Trbojevic's new book, The Turbo Pup.
"It wore on me a bit. But like all things, good or bad, you learn from it. I know now how to have a better mindset and focus around all that stuff. It was hard not to be frustrated by this year, but I've come to terms with it and accepted it – I accepted it a while ago."
Manly is one of four NRL clubs to launch next season in Vegas, and will be the only team that is based in Nevada for the week.
Some fans would be wondering if the safer option is to spare Trbojevic's body from all the flights and training on synthetic fields.
But the man himself could not wait to get amongst it, and said he was close to full fitness before the club broke for the off-season break. He travelled to Bali, Singapore and Vietnam, and the Cox Plate in Melbourne awaits next weekend, before he reports for pre-season training early next month.
"We haven't even discussed Vegas and what's happening there, but that idea [of missing it] certainly won't be tossed out there by myself," Trbojevic said. "We're going a week early to prepare, so there will be no issues. I'm actually very excited about it, and you don't get many opportunities to play in such a big arena and in such a special place. It's something different."
There was a lot to like about Manly with coach Anthony Seibold in charge this season, with their defensive effort in an 18-8 win against Melbourne at home in April one of the best team performances of the season.
The return of Trbojevic adds so much in attack and defence. The northern beaches club has also recruited Luke Brooks from the Wests Tigers with Trbojevic keen to work with the playmaker who has speed to burn.
"I don't know him personally, but I've been told he's a quality bloke, and he's clearly a quality footballer," Trbojevic said. "He'll be good for us and we'll be good for him. He's played over 200 games and knows what he's doing. We found our feet later in the season and started playing the footy we wanted to play. That will be what we plan to do from round one next year."
Prop Sean Keppie will be confirmed at Souths this week, with his early release paving the way for Matt Lodge to be retained for 2024.